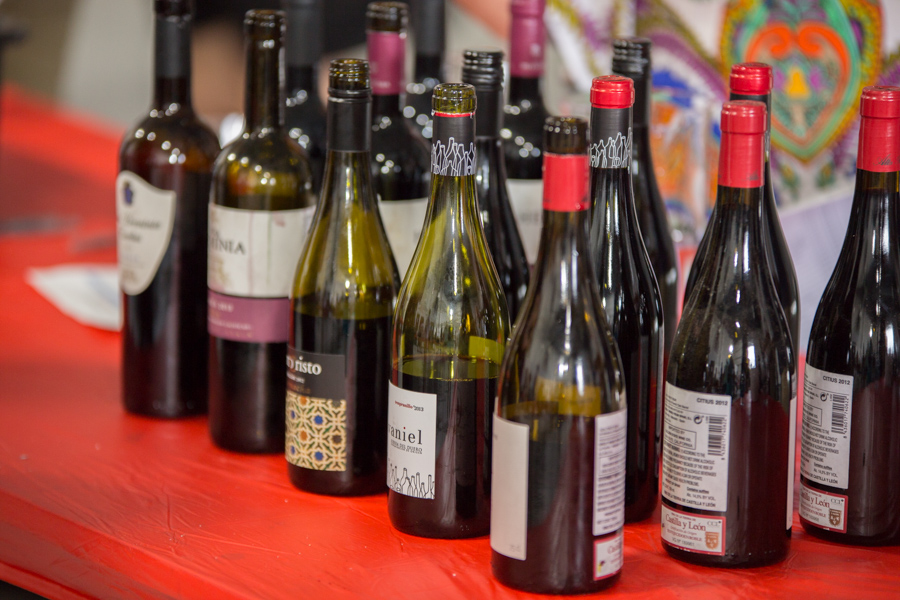 Here is a selection of Spanish wine that will be available to sample during the 2019 St. Augustine Spanish Wine Festival Grand Tasting on Feb. 17, 2019, at the River House, 179 Marine St., from 2-5 p.m.
At the Grand Tasting, sample more than 100 authentic Spanish wines from the regions of Rioja, Penedès, Catalonia and more of the grape varieties Tempranillo, Garnacha, Albariño and others accompanied by Spanish-inspired hors d'oeuvres.
During the event, knowledgeable wine professionals will provide interesting information and answer any questions about the wines.
As you taste the samples of authentic Spanish wine at the Grand Tasting, you can purchase a bottle or bottles of your favorite wines to later enjoy.
Additional wines will be added soon!
BERONIA RIOJA CRIANZA
BERONIA RIOJA GRAN RSV 09
BERONIA RIOJA III AC 11
BERONIA RIOJA RSV
BERONIA RIOJA VIURA
BERONIA RUEDA VERDEJO
CAMPO VIEJO GARNACHA
CAMPO VIEJO GRAN RSV 12
CAMPO VIEJO RESERVA
CAMPO VIEJO TEMPRANILLO
CRUZ DE ALBA TEMPRANILLO 15
EPPA SANGRIA RED
EPPA SANGRIA WHITE
FINCA CONSTANCIA PARCELA TEMP23 12
FREIXENET BLANC DE BLANC
FREIXENET CARTA NEVADA BRUT
FREIXENET CORDON NEGRO BRUT
FREIXENET CORDON ROSADO DRY
JEAN LEON 3055 CHARDONNAY
LA COPA VERMOUTH SWEET MAR DE FRADES ALBARINO 17
MARCO ABELLA OLBIA BLANCO 15
MARQUES ARIENZO CRIANZA
MARQUES DE RISCAL PROXIMO
MARQUES DE RISCAL RIOJA RSV 12
MARQUES DE RISCAL SAUV BLANC(SC)
MIA ROSE
MIA SPARKLING MOSCATO
MIA SPARKLING MOSCATO ROSE
NUMANTHIA NUMANTHIA 14
NUMANTHIA TERMANTHIA 12
NUMANTHIA TERMES 15
RAMON BILBAO ALBARINO
RAMON BILBAO CRIANZA
RAMON BILBAO MIRTO 12
RAMON BILBAO RSV 14
RAMON BILBAO TEMP EDICION LIMIT 15
REAL SANGRIA RED(SC)
REAL SANGRIA WHITE
RED GUITAR SANGRIA(SC)
RENE BARBIER MEDITERRANEAN RED
RENE BARBIER MEDITERRANEAN WHITE
SANDEMAN MADEIRA FINE RICH
SANDEMAN MADEIRA RAINWATER
SANDEMAN SHERRY CHARACTER
SANDEMAN SHERRY DON FINO
SEGURA VIUDAS ARIA BRUT
SEGURA VIUDAS HEREDAD BRUT RSV
TERRAZAS MALBEC SP N2W CASTANOS 12
TIO PEPE SHERRY FINO
TORRES 5G RED
TORRES CELESTE CRIANZA 15
TORRES CORONAS TEMPRANILLO
TORRES COS PERPETUAL PRIORAT 13
TORRES DE CASTA DRY ROSE
TORRES FRANSOLA 17
TORRES GRAN CORONAS RSV 13
TORRES GRAN MURALLES 10
TORRES GRAN SANGRE DE TORO
TORRES GRAN VINA SOL
TORRES IBERICOS CRIANZA
TORRES IBERICOS RSV 12
TORRES M LAS MULAS CAB SAUV RSV
TORRES M LAS MULAS SAUV BLANC RSV
TORRES MAS BORRAS(PINOT NOIR)13
TORRES PAZO DAS BRUXAS ALBARINO
TORRES PURGATORI RED 13
TORRES SALMOS PRIORAT 15
TORRES SANGRE DE TORO GARNACHA
TORRES SANGRE DE TORO TEMP MANCHA
TORRES VERDEO RUEDA
TORRES VINA ESMERALDA(MOSCATO)(SC)
TORRES VINA SOL
VILARNAU, CAVA BRUT ROSE SLEEVE
VILARNAU, CAVA BRUT SLEEVE
VIONTA ALBARINO
YSIOS RESERVA 11